These fashion tricks will make you look slimmer
Are you searching for fashion tips and tricks that will make you look slimmer? Look no further! In this comprehensive guide, we have you covered. We will share valuable insights on various clothing items and accessories for women. These tricks will help you achieve a visually slimming effect. Whether you are dressing up for a special occasion or simply want to feel confident and stylish in your everyday outfits, these tricks will work wonders for you.
Understanding the Power of Clothing
Before we dive into the specific fashion tricks, it's important to understand how clothing can influence our perception of body shape. The right clothing choices can accentuate our best features and create the illusion of a slimmer figure. We can achieve a more streamlined and proportionate look by strategically selecting garments that flatter our body type and using optical illusions.
Vertical lines are your best friend when it comes to creating a slimming effect. Whether it's pinstripes, vertical patterns, or long vertical panels, these lines draw the eyes up and down, creating the illusion of length and a leaner appearance. Incorporate vertical lines into your outfits through trousers, dresses, skirts, or jackets, and watch how they elongate your silhouette.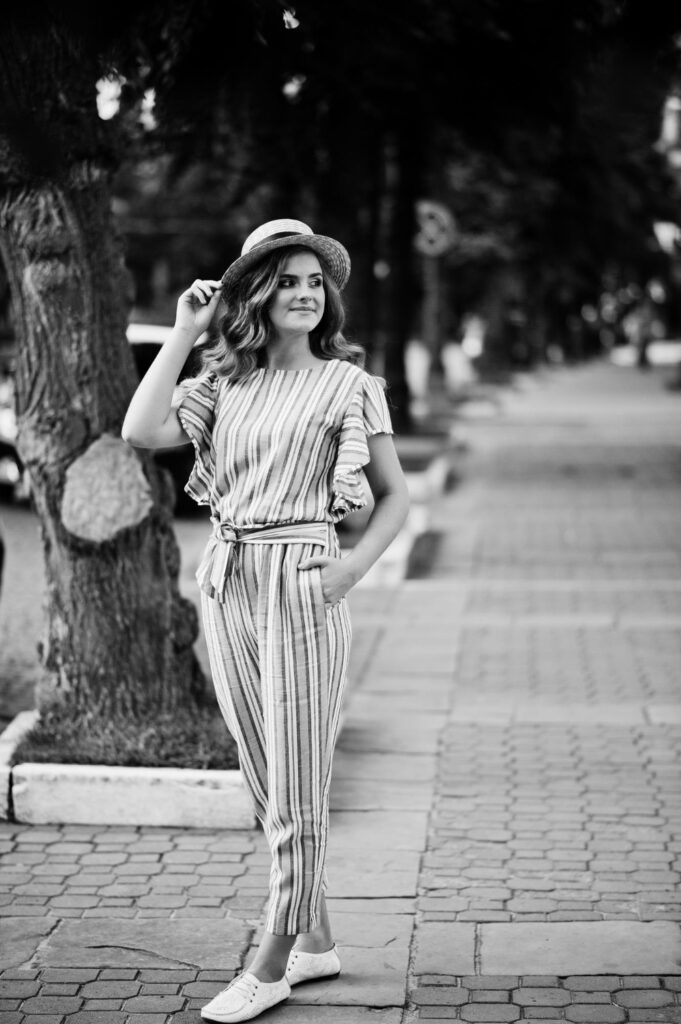 Opt for Monochromatic Outfits
Monochromatic outfits, featuring a single color from head to toe, can work wonders in making you appear slimmer. When you wear one color, there are no visual breaks, which creates a continuous line from top to bottom. This elongates your body and gives a sleek and streamlined look. Experiment with different shades and textures within the same color family to add depth and dimension to your ensemble.
Understanding proportions is key to achieving a balanced and slimming look. If you want to create the illusion of a smaller waist, try pairing high-waisted bottoms with a cropped top. This combination draws attention to the smallest part of your midsection, making it appear narrower. Similarly, wearing a longline blazer or cardigan over a fitted dress or pants can create the illusion of longer legs.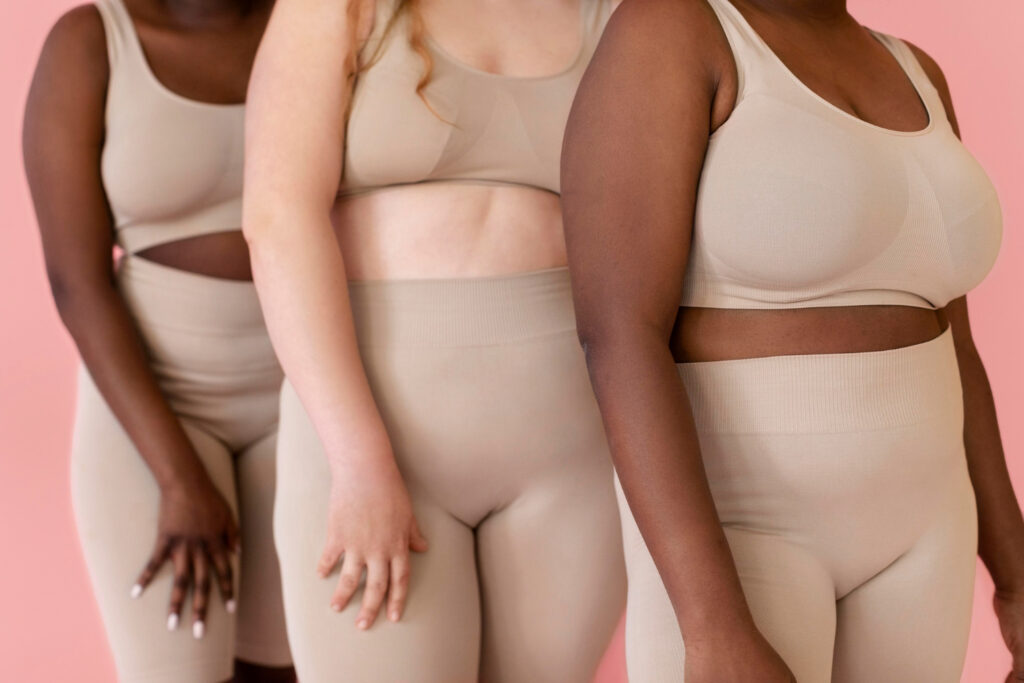 Shapewear is a secret weapon that can instantly sculpt and smooth your silhouette. From high-waisted briefs to full-body suits, shapewear helps to tuck and shape problem areas, giving you a more streamlined look under your clothes. Look for seamless and breathable options that provide support and comfort without sacrificing style.
Choose the Right Undergarments
Wearing the right undergarments can make a world of difference in how your clothes fit and how you feel in them. A well-fitting bra can lift and support your chest, improving your posture and creating a more defined waistline. Opt for seamless underwear to avoid any visible panty lines and ensure a smooth and seamless look.
Flatter with Fit and Tailoring
One of the most important factors in looking slimmer is wearing clothes that fit you well. Avoid oversized or tight-fitting garments that can add bulk or emphasize problem areas. Instead, opt for tailored pieces that skim your body without clinging to it. Tailoring your clothes to fit your specific body shape can make a significant difference in how you look and feel.
Drawing attention to your best features can divert the focus away from areas you may want to minimize. If you have toned arms or shapely legs, consider wearing sleeveless tops or skirts that hit just above the knee. By highlighting your assets, you create a visually balanced look that makes you appear slimmer overall.
Use Strategic Color Placement
Colors can play a powerful role in creating a slimming effect. Darker shades like black, navy, and charcoal gray are known for their ability to minimize and create a more streamlined appearance. Consider wearing darker colors in areas you want to downplay and lighter shades in areas you want to highlight. For example, a dark-colored top paired with lighter-colored bottoms can create a visually slimming effect.
Say Yes to Structured Fabrics
Structured fabrics, like tailored suits, blazers, and dresses, can provide shape and definition to your body. They create clean lines and give a polished and put-together look. Opt for fabrics that hold their shape, such as tweed, wool, or structured cotton blends, to enhance your silhouette and create a more tailored appearance.
Strategic Use of Patterns
Patterns can be your ally in creating a slimming effect, as long as you choose them wisely. Vertical stripes, small-scale prints, and diagonal patterns can elongate your body and create a more streamlined look. Avoid large-scale prints or horizontal stripes, as they can add visual width to your figure.
Your choice of footwear can also contribute to your overall appearance. Pointed-toe shoes, whether flats or heels, create a lengthening effect on your legs, making them appear slimmer. Nude-colored shoes can also help create the illusion of longer legs by blending with your skin tone. Avoid ankle straps or chunky shoes that can visually cut off your leg line and opt for sleek and streamlined designs instead.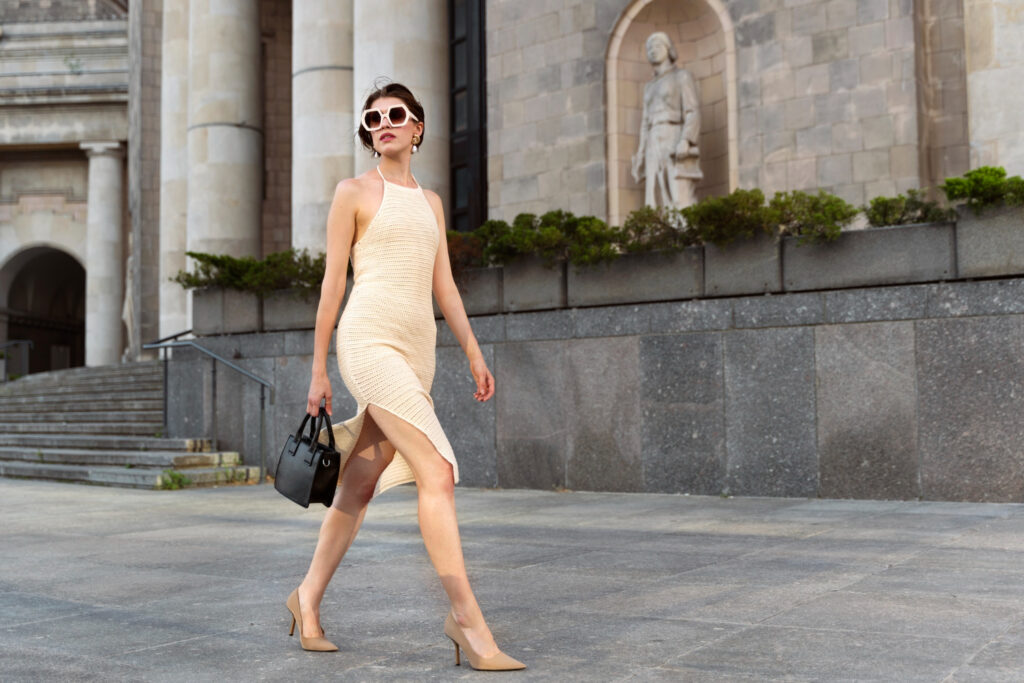 Vertical Details on Accessories
Extend the slimming effect beyond your clothing by incorporating vertical details into your accessories. Accessories like scarves, belts, and necklaces with vertical elements create a visual flow that elongates your body. Choose long pendant necklaces, slim belts, and scarves worn in a draped manner to create vertical lines and add a touch of sophistication to your look.
Properly Fitted Outerwear
When it comes to outerwear, finding the right fit is crucial. Avoid bulky or oversized coats and jackets that can add unnecessary volume to your silhouette. Opt for well-tailored coats and jackets that cinch at the waist or have a defined structure to enhance your figure. Belted coats or those with strategic seaming can create a more flattering and slimming look.
Choosing streamlined silhouettes can help create a more elongated and slimming effect. Look for garments that have clean lines and minimal detailing. A simple sheath dress, a tailored blazer, or straight-leg trousers can all contribute to a sleek and slender appearance. Avoid excessive ruffles, pleats, or embellishments that can add visual bulk to your figure.
Last but certainly not least, confidence and good posture are essential in looking and feeling your best. Standing tall with your shoulders back instantly elongates your body and creates a more confident and slimming presence. Remember to carry yourself with poise and embrace your unique beauty. Confidence is the best accessory you can wear!
In conclusion, looking slimmer is not about changing your body, but rather about making smart fashion choices that flatter your figure and create the illusion of a more streamlined silhouette. By incorporating these fashion tricks into your wardrobe, you can enhance your appearance and feel more confident in any outfit. Remember to embrace your individuality and have fun experimenting with different styles that make you look and feel your best.